Colour can have a huge impact on how we look, how we feel and how others perceive us. When we get it right, it transforms our look.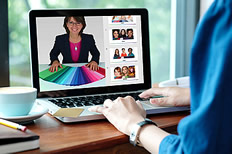 Could this be the opportunity to give yourself (and a friend or relative)* an instant confidence-boost? If so, contact me to arrange an online appointment. A convenient time can be arranged, and I will let you know exactly what to do prior to the virtual consultation.
How it works
After I have got to know you a little better (by email and phone), I will ask you to forward a photograph of yourself. This image needs to be taken fairly close up and in good daylight. I may suggest that for the photograph, you wear something that you believe complements your colouring. Having an additional two or three tops/blouses/knitwear on hand could also be beneficial – maybe select a couple of items you love wearing, and one or two garments that are your least favourite shades or indeed, have never been worn.
You will be asked to start the consultation 'make-up free', so I am able to see your natural colouring. Have your make-up bag on hand though as I may ask you to apply a few of your favourite shades (providing they suit you, of course) during the session.
After a detailed explanation of the tonal analysis system, and an in-depth look and discussion regarding your colouring, I will select the most appropriate palette of colours from one of our six dominant colouring types. You will then be shown several shades that are included in your swatch wallet (30 shades) that is posted out to you after the session.
Duration:
45 minutes
Price: From £59.
Includes your personal 30-colour fabric swatch wallet and Style Update Guide***

* with today's technology, the relatives or friends that join your colour party can reside anywhere in the world.

** please note that prices for consultations can vary depending upon various factors such as location or specific requests.

*** you will receive your swatch wallet and guide by post within a few days of the consultation

A face-to-face follow-up appointment can be made for the near future so that your secondary and tertiary shades (12) can be added to your swatch wallet. During this one-hour consultation, your most flattering cosmetic shades will be applied, and you will be shown your complete range of colours – all 42 of them!