Colour can have a huge impact on how we look, how we feel and how others perceive us. When we get it right, it transforms our look.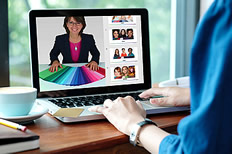 Could this be the opportunity to give yourself an instant confidence-boost? If so, contact me to arrange an online colour analysis. A convenient time can be arranged, and I will let you know exactly what to do prior to the virtual consultation.
The consultation is in two parts and lasts a total of approximately an hour.
The cost of the consultation is £100 and this includes your colour wallet and postage and packaging.
Duration:
45 to 60 minutes
Price: £100.
PART ONE - CALL ONE
Initially I'll ask you to send me a few photos, taken in natural light and without make-up, after which we'll schedule the first Zoom conversation. During this call I'll explain colour analysis theory to you and the basis for how it works with my clients. I'll establish your dominant colouring by discussing your skin-tone, hair and eye colour. After this I'll post you a personalised colour wallet containing your 30 dominant swatches.
PART TWO - CALL TWO
Once you've received your colour wallet we'll schedule the second call, where I'll explain your colours in detail. I'll talk you through the difference between neutrals and other colours; how best to wear your colours near your face; how to combine colours, and which jewellery colour suits you best. I'll also give some basic advice on make-up colours.
The two calls will total 45 to 60 minutes.
A face-to-face follow-up appointment can be made in the future so that your secondary and tertiary shades (12) can be added to your swatch wallet. During this one-hour consultation, your most flattering cosmetic shades will be applied, and you will be shown your complete range of colours – all 42 of them!