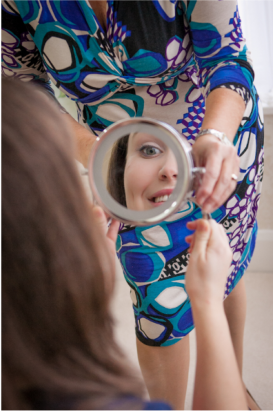 Hi Helen Thank you so much for Friday. Lyn looked fabulous and we went off to West Quay and bought her some bits to go out in the evening.She is such a busy single mum and never makes time for herself so it was lovely to see her enjoying a bit of 'me' time. We met up yesterday for a cuppa and there she was in her mustardy colour looking  fabulous.  Think she wanted to show off really!!!! Thank you once again Joya x Joya M.
* * * * *
Absolutely brilliant, Helen you are a lovely lady and made me feel a million dollars, thank you. LL
Hi Helen, many thanks for the 'teenager consultation' with M. yesterday. She simply loved it!  US
Recommended for everyone!
by Imogen I had a colour consultation with Helen, along with some other friends. We had a lovely afternoon, Helen was very welcoming and explained the whole process step by step. She found the colours that suited us each individually, some of which were expected and others were very surprising but made perfect sense! In addition to the colours Helen also gave us some great make up tips and colour recommendations. We each received a booklet of the specific colours that suited us and since then, I haven't shopped without my colour swatches! I have found going into shops where there is an overwhelming amount of choice it has made the whole process a lot easier, not to mention you are guaranteed to find something that suits you! Overall it was a wonderful experience and I would recommend it to all people of all ages
Hi Helen - I came home and looked through my wardrobe straight away!!!!! It was really helpful coming to see you and am really pleased we came.Wore charcoal/grey eye make-up today and it made such a difference to my eyes!! Thank you so much. Jane JA.
"I turned up for my consultation as the result of a conspiracy – a surprise early Xmas gift from my lovely daughter!  Once Helen had made sure I wasn't feeling under pressure, and was quite happy to devote the next 2 hours to self-improvement, I placed myself in her hands, enjoyed a make-up session, followed by the colour try-outs. A few surprises, all good, and a recommendation  to ditch the black! Maybe I should explain that I usually spend my days in very casual gear - but what Helen showed me was how it  is possible to revitalise your look with a little effort and not too much expense." BS, Hampshire,
"Mum loved her colour and makeup consultation! She says that she has already rooted out a load of things (mainly black & grey I think) for the charity shop and has been shopping with my mother-in-law today and got 4 new ones and a fabulous scarf! For one of the first times in my life I got the impression that she would happily have spent more time at the shops!" CR, Plymouth.
Thank you so much for the capsule wardrobe plan - it's proving to be a real inspiration for me. I have already sorted everything into categories. I am getting rid of a huge bag of unloved and unwanted clothes and shoes and am now looking at what I have left to compile a list of essentials to buy. I then plan to go online again to check out the clothes you have picked out  for me and maybe do a little bit of shopping! I am having a great time.  It feels extremely exhilarating to be doing this and I actually feel excited about my new wardrobe! HOORAY!! Many many thanks to you Helen. This process has helped in so many ways."   AT, Winchester.
DH,  "Hi Helen, Guess what - I have already started to do some shopping!!!  Yesterday I wore a brown, rust and cream pattern  skirt in the recommended style (jersey material  fitted at the top with kick pleats) with the brown cardigan  from the capsule.  I got lots of compliments on how good I looked. So all going well."
"Hi Helen, thank you so much for the style advice - you'll be delighted to know I rushed out on Saturday morning and bought a Chanel scarf to tie onto my handbag (it cost £6.99 from H&M - it's very hard to tell the difference)!" KS, Dibden Purlieu.