How it works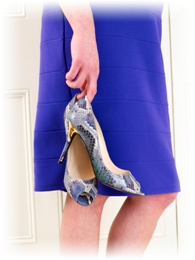 You'll start by filling in a short questionnaire to help me determine your 'style personality'. Then we'll discuss your body shape, learn how to make the most of your good features and how to take attention away from the features you don't like. Advice will cover tailoring, clothing styles, fabrics, patterns and accessories, as well as places to shop for your budget. We'll also have a look at the best hairstyles, jewellery and glasses for your face shape.
I encourage all clients to bring several pieces of clothing from their own wardrobe to the consultation - some things you like, and some you don't - so that you can see in practice what you have learnt throughout your style consultation.
I'll make a note of all the tips and advice you receive in your style workbook so you'll leave with a record of all the advice you have been given. You will then have the confidence of knowing what your personal style is and how to choose the right clothes for you
If money were no object, how would you decorate your house - romantic and girly, sleek and minimalist, cosy and cottagey? What TV programmes do you like, whose look do you admire, where do you like to shop? - These are just some of the questions that could help us to identify your style personality. Finding your own style is all about authenticity – I wouldn't want you leaving my studio feeling that you had to look like someone else, but the whole process is about helping you show on the outside how you are on the inside, helping you find colours, styles, fabrics, patterns that let you express your own personality.