Products
I am able to supply the entire range of Colour me Beautiful products
---
Cosmetics

The Colour me Beautiful cosmetic  collection is designed according to  our colour analysis concept. We've  developed the best range of colours that are perfectly suited to your  own colouring. Our magnetic kit  system allows you to create your own personalised cosmetic  collection and replace each individual shade as you need to. 

I stock a full range of fabulous and  reasonably priced Colour me  Beautiful make-up which you can  order at a consultation or at any  time afterwards
Scarves

Colour me Beautiful scarves come in  nine gorgeous shades to suit each  colouring type. Beautifully soft and  silk fringed, they make the perfect finishing touch to any outfit.180 x 47  cm (Material: 50% wool, 50%  viscose), £25.00 each, available to  buy during a consultation or to order  from me.
From February 2015 we also have a  new range of beautiful Fairtrade raw  silk scarves - £15.50 each.  
Books

Colour me Beautiful has a  range of books full of helpful  advice.
Gift Vouchers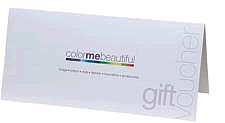 Treat that special someone to a  Colour me Beautiful gift voucher.  It's the ultimate pampering gift  idea and can be redeemed for any  of my services or products or with  any other participating Colour me  Beautiful consultants. If you'd like  to buy a voucher, please contact me.