When I did my make-up training with Colour me Beautiful it was really brought home to me how make-up can make people look and feel more polished and confident.  During the training I could see how literally every woman who came in for us to practise on looked so much better after than before!
Since then, I have applied make-up to hundreds of clients and am always struck by the difference it seems to make psychologically to people.   Some people literally cannot look at themselves in the mirror when they arrive, but leave feeling happy and confident.  There is somewhat of a philosophical question in there I know, but to take it at face value (!) I myself, never having been very into make-up, am now thoroughly convinced that if you look better you will feel better too.
The secret to not looking like a pantomime dame is to get the colours right.   Fluorescent department store lighting can really alter colours, which is why so many people tell me they have been disappointed when they have emerged into the daylight with their new look. 
So, a few tips to getting it right:
Foundation: 
If you are trying to choose between two colours, go for the paler -  a darker one is more ageing.
Blusher:    
Make sure the tone is harmonious with your own colouring - for warm skins go for a peachy/orange tone,  cooler skins need pink.
Eyes:       
A simple eye base will allow your make-up to stay on longer and give a smooth surface for it to be applied to. You can choose colours from the opposite range on the colour wheel to really make your eyes "pop" and look  stunning.  e.g. if you have a warm skin, orange looks fab with blue eyes!

Lips:        
Start off with a good quality lip base - this will provide a neutral base for your colour to sit on top of.  You can then  use just a gloss or lip pencil on top ( all over the lips, not just along the margins will avoid "three o'clock" lips!) for a   light daytime look, or add lipstick as well for a more glamorous evening look.  Again, take care to think about  your skin tone e.g. not many people can take bright red lips, you need quite bold eyes and hair not to be   overwhelmed by strong lips.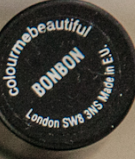 The finished article - my lovely daughter and daughter-in-law!
************Thank you Glen Jevon for the great photos!************
Thanks Hayley!
Thursday 21st February
Another five-star review on my yell.com page - thank you Hayley! Thursday 21st February If you're not sure how to use make-up or what suits you, a Colour me Beautiful make-up lesson is well worth the £30 investment!

Not keen on Emerald? 
How about this then ...
A visit to the shops will tell you that another big look for SS 2013 is going to be light apricots and nudes again.  This has been quite a trend over the last two or three  years and shows no sign of abating.  At Colour me Beautiful we know that this is a great look for people who have a lot of contrast in their hair, skin and eyes -  in CMB speak, "clears".  We are always looking for harmony between people's clothes and  their own colouring.  This is not just in the actual colours, but what is really important too is to reflect the amount of contrast or mutedness present.  So, for example, whereas a gentle English rose could be quite overwhelmed by very bold contrast, people with striking colouring look best in a striking combination of colours
 Most "clear" clients that I have seen have balked a bit at the apricot/nude colour, and admittedly it does look a bit insipid on its own if you have dramatic colouring, but when teamed with black - this really does bring out the "WOW" factor.
The reason this combination works so well for clears is that this pale colour is nearly always the same colour as their skin, and the black their hair, thus reproducing their look almost exactly!  How about teaming a gorgeous nude and black jumper - knitwear is a big story this year too - like this one from Oasiswith a pair of skinny  jeans and a neutral pair of brogues from the gorgeous selection at Clarks.